Women Rising-
Unikt årsprogram för kvinnor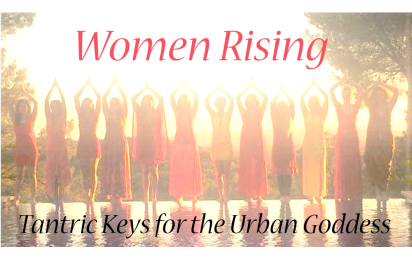 1 årsprogram med fyra moduler
-för dig kvinna som vill gå djupare och få tantriska nycklar
Start sep 2018

Woman. We are living in exciting times, the feminine is on the rise.
We know you have travelled for some time. Do you feel the call to go even deeper?

Embark on a journey with us. We provide a platform for your continued rising, a safe haven where you can expand your capacity to feel pleasure & create your authentic way of living.This is a unique 1-year program for women. It is based on four weekend modules with professional support in between.

The language will be Swedish or English depending on the need of the participants.

During the program you will receive tantric keys to unlock your own potential.

~☆~ KEYS PROVIDED ~☆~
☆ Self love; Develop your capacity to love
☆ Energy work for coming alive ...
☆ Tools for cultivating the life of your dreams
☆ Orgasmic living; Passion as a way of being
☆ Unleash the wildness and adventure that is you
☆ Tools for inner & external leadership
☆ Deepening intimacy with yourself; create lust & love maps
☆ Free your body (and the rest will follow)
☆ Opening & Softening your body; melt into pleasure
☆ Cultivate your connection with the divine

~☆~ HOW~☆~
Exercises during modules will be based on life coaching, breathing, dance and movement, meditation, ceremonial work, tantric exerices, touch, inner child healing, tool boxes for modern inner & external leadership and scientific methods for self development. There will also be support between the modules.
To be in this year program deepens your process beyond your expecations. We are doing this together. As sisters we are creating a secure, loving and nutruting environment.

~☆~ MODULES ~☆~
☆ 7-9 Sept, Embodiment & Grounding
☆ 9-11 Nov, Power, Reconstruction & Transformation
☆ 15-17 Feb, Pleasure & Devotion
☆ 17-19 May, Cultivating the Dream

~☆~ PLACE ~☆~
Touch Center, Väringsgatan 25, St Eriksplan, Stockholm (Modules 1, 2 & 3)
Mangalam Kursgård, Klef 51, Tvååker, Outside Varberg (Module 4)

~☆~ JOIN ~☆~
Apply by paying 1500 SEK to bg 276-7127 or Swish 123 326 1997, Paula Nygren Lust in Life.
And contact us on womenrising@lustinlife.se or 073 731 46 56 Paula, 073 962 55 46 Anna.

~☆~ PRICE~☆~
Early bird (apply before 1 st of June): 12400 SEK After 2/6: 14400 SEK. Price includes all 4 weekend modules and also food and lodging on modul 4.

You can pay the whole fee at once or divide the costs into four payments of 3600 SEK/ each to be payed before each module. The first payment is to bev payed at the 25/7. You will get an invoice minus the registration fee.

~☆~FACILITATORS ~☆~
Paula Nygren is a passionate sexsibility coach, an experienced tantra teacher & a tantric masseuse. She is much appreciated for her joyful way to create a motherly held and safe space for people to expand and experience more lust in life. www.lustinlife.se

Anna Birgersdotter is has been facilitating women circles for over 10 years. She also has a background from cancer resesarch including a PhD. Now she teaches at Karolinska institutet (including leadership). She is loved for her ability to create a vulnerable safe space & guide women deeper into the mystery that is you.

We are sharing our keys that have unlocked our lives, keys that have helped us through hard times and expanded our possiblities. Keys that we love and feel honored to share with other women. Our aim is to provide a safe space where we support each other.

~☆~ WHY TANTRA? ~☆~
Tantra is an ancient tradition providing tools to explore and expand conciousness to achieve a deeper realization of what it means to be alive. The word tantra is a mix between the words expansion and focus (in sanskrit). It is an accepting and life affirmative path. One part of tantra includes working with your sexual energy.

~☆~ THE SMALL PRINT~☆~
Registration is binding and the registration fee is non-refundable
Cancelations before 24/8 will be invoiced 50% of the total fee for the whole year.
Payments are non-refundable 14 days before course starts.

Women Rising-
Workshop Pleasure & Devotion

Expandera i mer kärlek med kvinnor
Stockholm 28/4
Göteborg 24/5
kl 18-21

Most welcome to a "Women Rising" workshop in Stockholm and Göteborg with the theme "Pleasure & Devotion". Be inspired on your continued journey to rise from your core of authencity, deeply rooted in love.

~꙳~ WHAT WILL HAPPEN THIS EVENING ~꙳~
This evening's exploration of Pleasure & Devotion will focus on these keys.
☆ Selflove; expand your capacity to love
☆ Deepening intimacy with yourself; create lust & love maps
☆ Free your body (and the rest will follow)
☆ Opening & Softening your body; melt into pleasure
The exercises that we base this evening workshop on come from different areas like tantra, liberating breathwork, liberating dance, self inquiry, coaching & leadership.

~꙳~ ABOUT WOMEN RISING ~꙳~
Women Rising; ...Tantric Keys for the Urban Goddess is a year program to support your continued journey. It is based on four modules, Pleasure & Devotion being one of them. This evening is a taster the year- program.
All who identify as women are welcome.

~꙳~ WHO ARE WE? ~꙳~
We who are facilitiating the evenings journey and providing your safe space are Anna Birgersdotter (PhD & teacher at Karolinska Institutet, women's circle facititator since 2008) and Paula Nygren (passionated sexsibilitcoach, experienced tantrateacher and tantramasseus; www.lustinlife.se). We are both tantrikas that have spent the last 20 years on personal development.

~꙳~ HOW DO I JOIN THIS EVENING? ~꙳~
You join by sending an sms to 0737314656 & then when we say you have a place you pay by swish 250 SEK to 0737314656 (it is non-refundable)

~꙳~THE EVENING'S STRUCTURE ~꙳~

Stockholm: We will meet at Touch Center, Väringsgatan 25 18-21 on the 28th of April. Please arrive on time, the door closes at 18.00.

Göteborg: Moveri Järntorgsgatan 12-14, 5th floor. The workshop is between 6-9 pm and be on time, doors closes at 6 pm.
The cost of the evening is 250 SEK.

If you have any question please don't hesitate to contact us. Anna 0739625546 or Paula 0737314656

The language will be Swedish or English depending on the need of the participants.

We are so excited and honoured to do this journey with you! Most welcome!